Murder WILL Feel Deadly... Soon
Welcome! Are you looking for Murder Feels Deadly, Book 4 in the Mark and Pete mystery series?
You've come to the right place!
I'm B.T. Alive, the author of the Mark and Pete books. And I have some good news and some bad news for you.
Bad news first: I haven't written Murder Feels Deadly yet. Why? Because…
Good news: I've been writing other mysteries for you to read while you wait!
Mainly, I've Been Launching A Whole New Paranormal Cozy Series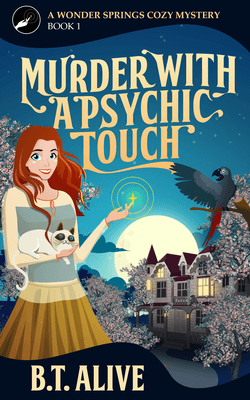 Murder With a Psychic Touch
Her unique power is secret…
But she just got framed for murder.
Can Summer use her psychic gift to catch the real killer in time?
Murder Feels Deadly Will Come!
Thank you again for reading this whole series so far! I'm so excited that you're looking forward to Murder Feels Deadly.
If you have a minute, I'd love to hear from you – readers like you make an author's heart sing.
See you soon! Happy reading!