Oops! That book is COMING SOON.
Welcome! Thanks so much for checking out my upcoming book!
Bad news first: I haven't finished writing it yet.
Good news: May I offer you a free book to read while you wait?
Stay In Touch and Get a Free Book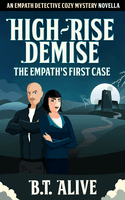 High-Rise Demise: The Empath's First Case
He's an empath. He feels secrets.
He just doesn't know it.
Until he feels the murder...
Mark never knew he was anything special. But when a man falls to his death from a balcony in Mark's condo building, Mark has a shocking experience that can mean only one thing.
The man was pushed. And Mark is an empath.
Okay, that's two things.
But when Mark tells the cops, he seems to know too much. Now he's the prime suspect.
Can he catch the real killer before the cops haul him away?
Mark has no idea how to use his new power. And the building is packed with hundreds of suspects. Plus, his brilliant girlfriend, Akina, is growing troubled and distant…
But if Mark doesn't act fast, with help from his quirky roommate, he'll wind up in jail…
…or dead.
You'll love this funny, fast-paced cozy novella, because it's a twisty mystery with characters you'll love and a surprise ending.
Get it now.
Plus, you'll join my Reader Club, so you'll be the first to know when the book you were looking for comes out.
Or, Relax With a Silly Cozy
If you've already read High-Rise Demise, you might enjoy a breather with this short, silly cozy I wrote about…
… yes…
… a missing vase.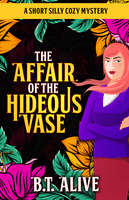 The Affair of the Hideous Vase
She's always hated it.
But now it's gone. Stolen.
The most hideous vase in the world.
Or, Send Me a Note…
If you have a minute, I'd love to hear from you – readers like you make an author's heart sing.
See you soon! Happy reading!