Welcome to your first weekly FREE READ FRIDAY!
I'm trying something new in 2021. Every week, I'm going to give you a free story of mine or selection from one of my books, right here on billalive.com.
But, there's a twist. After a week, this read will usually vanish.
(Generally into a book you can go buy for a few bucks. But still.)
So read this now, while you can…
And as for the read you missed here, you'll find it in full in this affordable, hilarious book: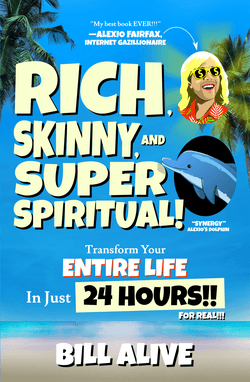 Rich, Skinny, and Super Spiritual!
An Internet gazillionaire hides a desperate secret.
Also, his dolphin's missing.
And his only hope (and yours) is a zany crew of oddball bloggers.