I'm literally taking a deep breath before I tell you this…
(… in … out … is this even helping? Whatever.)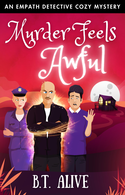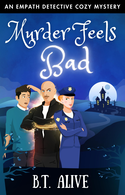 You know how I have this comedy mystery detective series about the Mark the Empath Detective and his goofy devoted sidekick Pete? You might have already read books one and two…
So I've been working on Book Three, Murder Feels Crazy. And I've been telling everyone that the book would come out "this fall".
A bit vague, perhaps? Yes.
Well, this morning I was looking over my calendar, and I realized that if I wanted the book to come out in September, I'd have to finish the draft for Murder Feels Crazy in the next five weeks.
Because I've got this whole process in place to make the books top-notch, from revisions to beta readers to advance review copies. It takes months, but none of it can start until I finish the draft.
We're talking a 75,000 word, full-length novel draft here.
But …
I haven't even started this actual draft yet.
Because I also have this whole intricate process for plotting and planning each book ahead of time. It's been coming along great. But it takes time.
Now, some indie writers out there could eat this draft for breakfast. There are supposed mortals out there who literally dictate 20,000 words in a day while they're walking their dog.
I am not one of those adepts.
(I know Pete sounds like he might as well be walking a dog while he's trying to tell these stories, but … no.)
Normally, at this point in my plotting, I'd expect at least another TEN weeks to finish this draft.
But you know what? That would push this book into late October, even November, before you could read Murder Feels Crazy. That is too freaking long for you to have to wait. Plus …
…five weeks from now ends on FRIDAY THE 13th.
I can't resist. I'm going for it.
I'm going to FINISH THE DRAFT for Murder Feels Crazy by Friday, July 13th.
With you watching.
I feel … lucky.
Also slightly terrified. Because I'll basically be writing twice as many hours per day as I usually do.
Which means juggling/postponing other life commitments. But all that stuff can wait five weeks. I hope.
I also hope my head won't explode. Even Stephen King, in his classic On Writing, only advises writing four hours a day…
Every Tuesday, I'll send you a QUICK update on my progress. Including whether my head remains intact.
Truth is, I've never, ever, EVER written "in public" like this before. I won't lie, my stomach is churning a bit.
Do you want to help?
Honestly, if you've been meaning to buy Murder Feels Awful or Murder Feels Bad but haven't gotten around to it yet, buying these books right now would give me a huge boost.
If that's not an option, you can send me a quick note of encouragement. I really, really love hearing from you. And please don't be hurt if my thanks note is super brief. Normally, I can easily take six hours or more giving everyone a thoughtful reply after one of these posts, but during this challenge I'll need those hours to write this draft by the deadline…
Deadlines. Ugh. And yet …
It is still sheer magic to me when I can actually hold in my hands the complete draft of an actual new story. So although this challenge is a crazy amount of pressure to take on … I am super excited.
Thanks for sharing this adventure.
Happy reading! See you next week!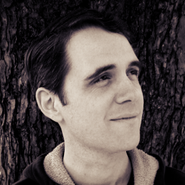 P.S. Next Tuesday, I'll be updating you from, of all places, the top of a mountain. For real. How could this not be an insane distraction? You'll see…