Hi! So this novel challenge update will be fairly short. And short, as you'll see, is this week's secret…
First off: THE DRAFT HAS BEGUN IN EARNEST.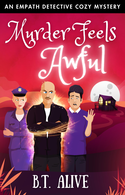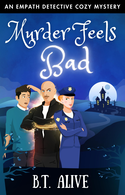 Murder Feels Crazy, which is Book Three in the comedy mystery adventures of Mark the Empath Detective (and Pete the Goofball Sidekick), has begun to manifest actual pages that exist in the physical world. (Or at least on my hard drive.) Huzzah! I'm excited.
NICE! BUT HOW _MANY_ PAGES?
I thought you might ask that. But before I go there…
THANK YOU FOR ALL THE AWESOME EMAILS! You all continue to amaze me. You're fascinating, and encouraging, and just … most excellent. Thank you.
(Also, I'm glad I wasn't the only one who didn't know all that crazy stuff about guns …)
This week, after days of steady drafting … I actually had trouble figuring out what amazing writerly burst of energy I could share with you.
REALLY? WHY?
Truth is, the words weren't coming as fast as I'd hoped.
They were coming, yes. Plus (I reminded myself) story openings are hard. They're complex machines that need to accomplish several critical tasks, fast, without the reader even noticing.
(I could talk for a long time about openings.)
But I need to keep this post short. Which, like I said, is this week's secret...
Here's the thing. I've been watching my word count grow each day, and just like you'd expect, I've been rooting for as many words as fast as possible.
But just this morning, I realized I'm also watching my word count and … hoping the exact opposite.
THE OPPOSITE? HOW?
I'm hoping to use as FEW WORDS AS POSSIBLE.
WHAT? FOR REAL?
Yes. As few words as possible.
Each chapter tracks its own separate word count. As I write, I watch that count with cautious dread.
Now, as I told you a couple weeks ago, I've already done the "scene-beat" . So, in theory, I have a rough idea that each chapter is packed with juicy little beats and won't drag.
But still … if the word count starts edging too high, I get nervous.
There's no magic number here – some chapters should be longer than others.
But shorter is better.
WHY?
Fewer words, if they're chosen well, mean that each word has more power.
A single, potent, well-chosen word can hit harder than a whole fumbling paragraph.
And that's my writer secret for this week.
You know you're improving when you start aiming for FEWER words.
I THOUGHT YOU SAID NEW WRITERS GET THIS WRONG? WHY?
Many (not all!) newish writers struggle just to get words on the page. They band together for challenges like NaNoWriMo, psyching each other up to achieve FIFTY THOUSAND WORDS in ONLY A MONTH.
I'm not going to knock this. That is a whole lot of words. Especially when you've got a full-time job, family, whatever.
And the challenge to just freaking write a lot of words has its place in the writerly journey. If that's where you're at, no shame at all. Get those words out! Get the practice!
But at some point you'll realize, heck, you could probably write 50,000 words in a single day…
… but maybe only five THINGS would actually happen.
REALLY? 50,000 WORDS IN ONE DAY???
Okay, honestly, now I want to try and see if I really could write 50,000 words in a day.
But not really.
Trust me, you wouldn't want to read that "draft". You know how the unabridged Les Miserables has this gigantic digression on the Parisian sewer system? (Hmm, you probably don't. Because it never makes the cut.) My one-day "draft" would be all digression. And lots and lots of arguments and one-liners and bizarre surprise characters that I thought were hilarious at the time.
So I'll keep writing as tight as I can. Slow and steady and aiming for awesome.
YOU STILL DIDN'T SAY HOW MANY WORDS SO FAR!!
Right! Good call. So far, I'm at about 15,000 words on Murder Feels Crazy.
How many "pages" would that be? It's hard to tell on screens anymore, but in the printed book, that'll be about 70 pages.
Not a bad start. My goal for the book? 75,000 words (about 350 pages).
COOL. BUT ... THIS POST REALLY WASN'T THAT SHORT.
I know. I tried.
See you next week! Happy reading!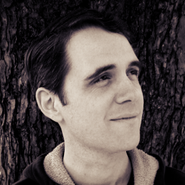 P.S. Here's the actually short update: I've written almost 15,000 actual draft words for Murder Feels Crazy. In the print book, that would be about 70 pages so far. Still on track for a fall release!