Hi! So, I could try to be all clever and witty about this, but honestly, my word magic's a bit tapped out just now. I have a good reason, though…
THE DRAFT IS DONE! I finished it a few hours ago! Huzzah!!
THAT'S GREAT, BILL. WAIT ... WHAT DRAFT?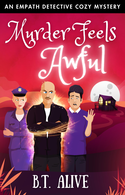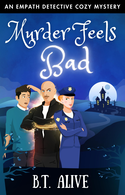 Murder Feels Crazy, of course! Book Three in the hilarious, yet gritty, yet heartwarming, yet utterly unique and possibly overhyped but still fantastically FUN mystery adventures of Mark the Empath Detective and Pete his devoted sidekick.
Three books! Plus a prequel novella! It's a real series now! And we're just getting started…
YOU SOUND EXCITED.
Are you kidding? I'm bouncing off the walls!
Actually, I want to crawl into bed. If I had one.
HOLD UP, WHAT? YOU DON'T HAVE A BED?
Of course I have a bed! Sort of. It's complicated.
I'M GETTING CONCERNED.
Can we just drop this? It's fine, it's just this temporary thing because we were gone on vacation and it rained a lot and got all humid here in Virginia and apparently we didn't exactly prepare for that because when we came back we discovered … well … a wee bit of mold.
_MOLD?!?!?_
We really are getting off track here. Everything's fine, okay? It's all cleaned up. Pretty much. And once we order a new mattress–
YOU LOST A WHOLE _MATTRESS_??
Can we please just talk about the new novel? This is no time for my fictional drama to get upstaged by real life! That defeats the whole point.
Although I will say I didn't know you could buy a whole jug of desiccant.
Or is it desiccants, plural? It's this white chalky stuff, like those little white packets that say HARMFUL IF SWALLOWED - DO NOT EAT that would fall out and freak you out when you opened a new toy.
Except, again, you can buy a whole big jug. Because those packets were to keep the toy dry, and apparently you can also get little buckets designed to keep a room dry. And when you fill those buckets, and you have to tell your kids to stand far back from the not-really-dangerous-except-too-much-is-lethal desiccant dust while you pour, it's like, OFFICIAL GROWNUP, RIGHT HERE, BABY.
Anyway.
RIGHT. SO ... IF THE DRAFT IS DONE, ARE YOU FINALLY GOING TO WRITE ME BACK?
Yes! That's what I wanted to tell you before the whole mold thing came up. You all wrote me so many awesome emails over the last several weeks, and I promised I'd write you back, and now I will. Even if you forgot you even wrote me, because, well, it was back in June.
Now, I seriously have over 150 emails from you all, so you might not get yours this afternoon, but I will write back.
Including if you write me again to tell me not to worry about writing you back. That's just too deliciously meta to pass up.
But if you don't hear from me in the next few weeks, please send a nudge, because it means I glitched and lost your email. It happens. 😢 I don't want to leave you hanging.
I can't say enough what a big deal it was to be able to keep you posted as I wrote this draft. This is the first draft ever where I had so much support as I wrote. You've been amazing.
Today, when I finished, one of my first thoughts was:
This isn't the first time I've finished a novel draft.
But this is the first time I've had thousands of readers I'm excited to tell the news. The same day.
It's true. I didn't start finding you all till I'd already published the first two books last fall. It's so, so different writing for real readers who care. Thank you.
YOU'RE QUITE WELCOME. BUT ... WHEN DO WE GET TO READ _MURDER FEELS CRAZY_?
I'm so glad you asked! Over the next several weeks, here's the plan:
Give the draft a quick first pass to fill any truly abysmal sinkholes, then send it to a few trusted beta readers.
With their fantastic feedback, give the draft a thorough revision.
Send the book to my Elite ARC Team. We've already got a splendid team of reviewers from the first two books, but I will be taking applications for a limited number of new spots.
Give the draft one last polish, especially if the reviewers catch any minor typos. (Impossible!!)
And then … PUBLISH! Right now, the plan is to release Murder Feels Crazy in October.
OCTOBER?! I CAN'T WAIT UNTIL _OCTOBER_ TO READ A NEW BOOK BY BILL ALIVE!
Aw, shucks. Well … you might not have to wait…
No, I don't have any surprise full-length novels up my sleeve. (Not between now and October, anyway.) But other new books? That you'll hear about first, before anyone else on the planet? We'll see…we'll just see…
Happy reading! See you next week!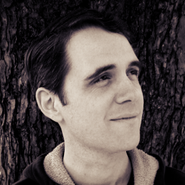 P.S. If you skimmed down here and somehow missed it, THE DRAFT IS DONE! For Murder Feels Crazy! Huzzah! And, side note, if you happen to have any words of courage and hope from any home maintenance disasters you've survived and conquered … I'd love to hear them. 😄 Thanks!