Site revamp for 2020!
TL;DR I wrote a LOT last year. This year, I also want to keep in touch. With readers like you. Which includes actually posting updates around here…
Act 1: The Abject Confession
So, despite my strident resolutions when I started this blog, I totally haven't posted on this site for almost a year.
"But wait," you say, "I see you've got posts all through 2019. What about those?"
Those, my friend, are back-dated. Although I wasn't posting here, I was sending the occasional missive to my faithful newsletter. So I'm retroactively giving those emails a dubious posterity as blog posts.
You're welcome.
And, I'm sorry.
(Especially if you follow the RSS feed and get a bunch of old posts all at once…)
Act 2: The Excuses (a.k.a. The Humblebrag)
In my defense, 2019 was a busy year for me.
Mainly, I was writing the first three books in a new mystery series:
Three novels in a year was a new record for me, so I am quite pleased and grateful.
Many of my fellow cozy writers can release three novels in three months (or less), but for me… three novels is a lot.
However, humblebragging aside, the real reasons I didn't post to this site were:
It was too tricky to work with.
I started to hate the design.
It's just too depressing to post to a website when your fresh, newborn article looks gross and blocky.
The problem was, I do all the website work myself, so I kept putting off fixing things.
Until…
Act 3: The Solution!
… until I managed to get Book 3 of the new series finished (Murder With a Psychic Kiss) JUST IN TIME for my pre-order date. (Seriously, that was too close. I'm never doing a pre-order again unless the book's already written.)
That book was a frantic sprint to the finish line, and as I gasped for breath and looked up, I realized that I'd been so focused on finishing that book (and the one before… and the one before that) that the other systems in my life were starting to… teeter a bit.
In fact, lately I've been doing a lot of reading and reflecting on life systems and commitments in general… it's rather fascinating… but that's a topic for another post. Maybe.
Short version: I realized I was never going to start posting to this website again unless I fixed it. So I fixed it.
It was way harder and more time-consuming than I expected, but websites usually are. And now it's all nice. And here we are.
It's perfect and lovely and I'll never change it again, except of course I will, and so, for posterity, here's how it actually looks while I'm writing this:
---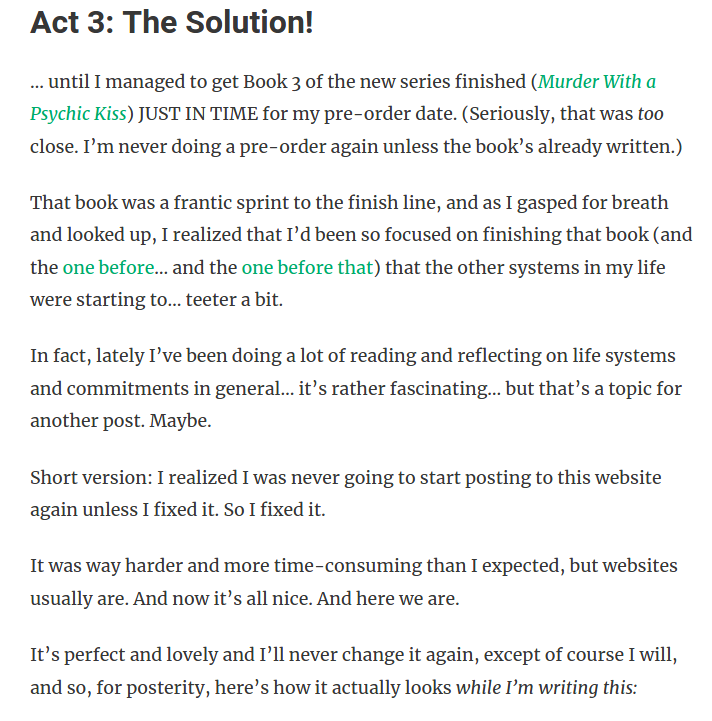 ---
Wow, actually, that image might be too meta, even for me. Which is saying something.
So will I start posting again?
Yes!
At a minimum, I'll post the emails I send to my newsletter. I've also let that newsletter slide, but not nearly as badly, and with the new systems I'm putting in place, I am confident I'll be emailing you all at least once a month.
(Note, if you're not getting my newsletter, join us! You should at least get your free funny cozy for signing up.)
I won't post every newsletter here, especially not limited-time promotions. So you'll still want to sign up for launch discounts and such.
On the flip side, I may sometimes have longer ruminations that, while fascinating, I hesitate to inflict on everyone in their email inbox. Having a functional blog again makes it very easy to share such treasures.
But if I post anything interesting, I'll mention in my newsletter, don't worry.
What am I publishing in 2020?
I'm bursting with release plans for 2020, including one tentative idea that long-time readers will be excited about. (You know who you are.) For now, though, I'll restrict myself to my current writing project: Book 4 in Summer's adventures…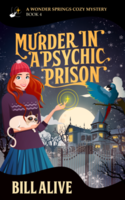 Note: as I write this on [2020-01-30 Thu], that cover image is just a placeholder graphic. But when I announce my cover release, that placeholder will magically update to the real cover everywhere on my site. I coded up that little feature myself… pretty cool.
Anyhow, do you have any author websites that you really enjoy? I'd love to hear about them and get some inspiration. You can send me an email or comment below.
Thank you! Happy reading!